posted by qtjoel on 08.26.09 at 4:03 am
So this is exactly what happened
1) I was playing cs at 2:45 in the morning
2) I am in the living room so I look out my window and see FLAMES.
3) I look across the street and a car is totally in flames and no one is even around.
4) I call the cops.
5) The firemen come 5 minutes later.
6) I got video footage but it's kind of bad quality considering I zoomed in a lot and I was holding the camera and it was shaking. Why? The car was kind of close to my house and I was too scared to walk near the window so I kept my distance and zoomed in.
7) I'll edit and upload the video as soon as possible.
8 ) I wanted to get a video of the car itself after the incident...It's outside right now but I can't go to it because my parents don't want me to go near it and they don't want me there 3:45 in the morning...From what I can see it's just a pile of ASH. I don't know how the car caught fire but it was effing nuts and made my exciting day even more exciting.
9) So for now, I'll leave you with a video of a car exploding. I did not know, a car could explode in a collision. I thought that was only in movies.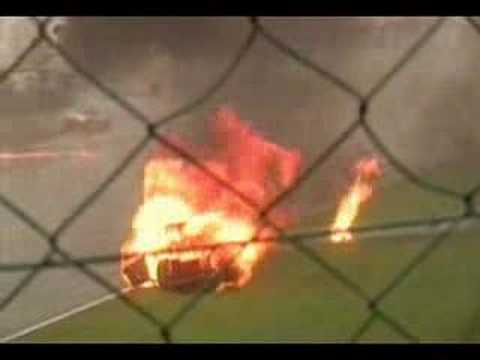 Like This