posted by Chris on 09.24.09 at 12:20 pm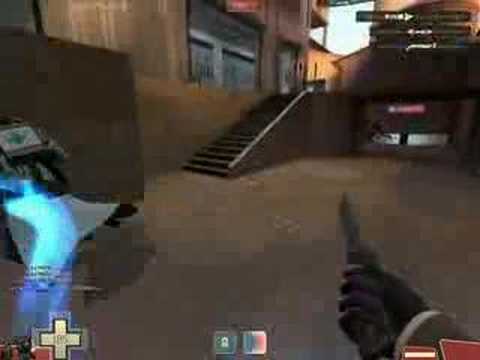 The best backstab in TF2 ever. It's almost as good as the COD: WAW one.
1 comment
4 People like this
posted by Chris on 05.15.09 at 6:13 pm
So the Team Fortress crew was rolling out new info about the Sniper update as usual; Day 1 was The Huntsman. Day 2 was Payload Race and new maps. Day 3 was the Razorback.
Now for Day 4. WHAT THE FOODGE happened? A spy update? The sniper update page has now changed to a SPY update page! WTF is going on?
This new spy update page reveals two new items for the spy class. First is the "Dead Ringer" spy watch. It basically fakes the spy's death by creating a fake body, and cloaking him for up to eight seconds.
The next item is the "Cloak and Dagger" spy watch. It allows spies to cloak as usual but refills their cloaking power as long as they're standing still and only drains it when they're moving. This essentially allows the spy to be cloaked, FOREVER.
There's more info at the Spy update page. What's interesting is that navigating back to previous pages still shows the sniper updates that were revealed the past few days. So this is going to be a Sniper + Spy update? AWESOME.
I have a feeling this is not the end of the surprises. Wonder what's next. I want this chem final to be over already so I can play some TF2.
8 comments
1 Person likes this